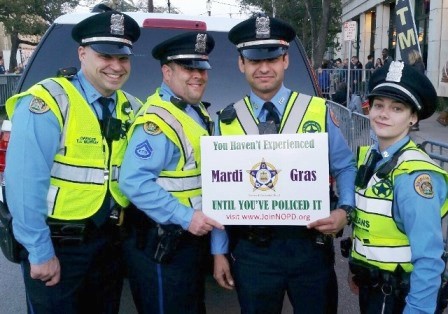 One of America's most celebrated events is Mardi Gras in New Orleans, Louisiana, and Strategic Staffing Solutions (S3) is stepping up to the plate to help.
As part of S3's fifth anniversary of bringing customers and consultants together for the Krewe of Muses Parade, Strategic Staffing Solutions is participating in the Adopt-A-Cop program. Our support will provide 1,300 law enforcement officers (LEOs) from New Orleans and surrounding Louisiana sandwiches and other snacks to help keep them nourished during the parade.
"We love to give back to New Orleans in any way we can," said Ariane Brennan, New Orleans Branch Manager. "Our city is special and we value the community and our traditions."
The parade, from roll call to roll call, is at least a 10-hour shift.
"Enjoying Mardi Gras is a special tradition in New Orleans that would not be made possible without our Krewe in Blue, who work around the clock to make it happen for everyone in the city. On behalf of all our officers, we extend a big thanks to S3 for helping to provide our men and women with much needed meals and snacks during the long days and nights of Carnival. After all, there would be no purple, green and gold without the blue!" said Melanie Talia, President and CEO of the New Orleans Police and Justice Foundation.
New Orleans isn't the first city to have police activities and outreach supported by Strategic Staffing Solutions. The company, an international, woman-owned, $321 million IT and business services corporation based in Detroit, has a track record of ongoing commitment to police and first responders.
In Detroit, S3 financially supports the care and feeding of horses of the Detroit Police Department's Mounted Unit, and has provided new, lighter and more effective bullet resistant vests for the dogs of the K9 unit there.
"We have the utmost respect for those who protect and serve our cities," said Cynthia Pasky, CEO and Founder of Strategic Staffing Solutions. "It's the little things that can make a really big impact. We commend the work of our police departments and are proud to step up and support."
The Krewe of Muses parades through uptown New Orleans on February 23, 2017.