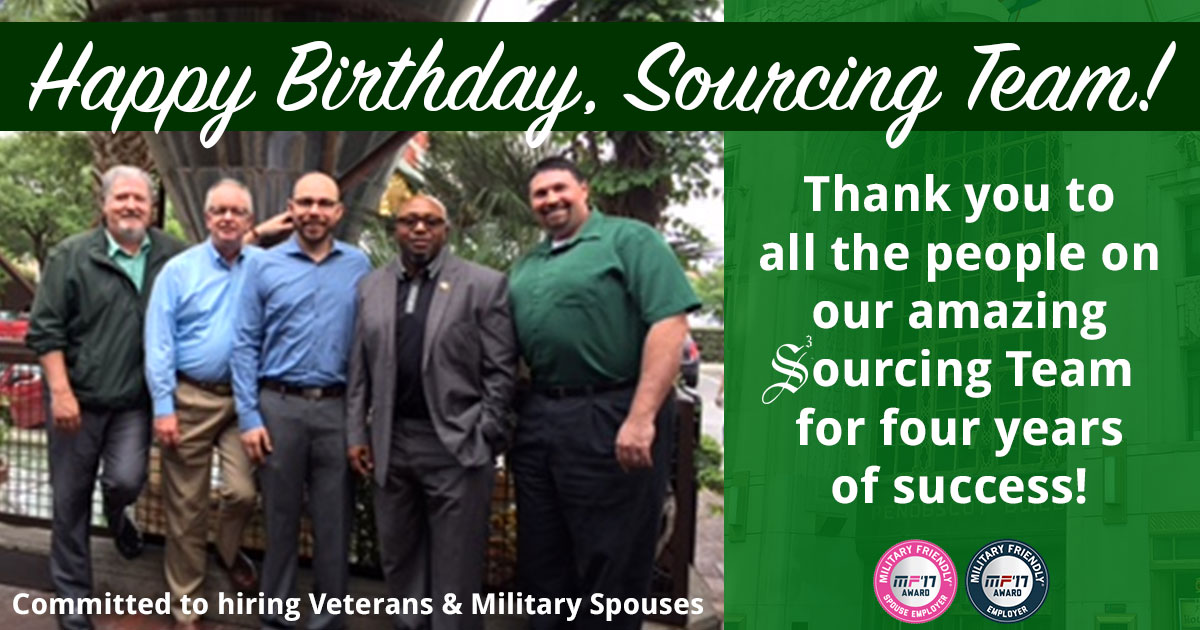 Four years flies when your team is doing serious work! Since Cindy gave the go-ahead to put the team together on April 15, 2013, the 48 Sourcers S3 has had in our employ since that time have helped deliver 3,183 consultants & overhead staff members to external & internal customers.
Nearly 25% of our Sourcers (11 of the 48) have gone on to other roles within the company, & those 11 remain singularly focused on delivery, including our original "Fab 4" pictured above with Ken Huxley (second from left), Bryan Barber (Team Southwest), David Flores (Team Swamp), Greg Williams (Account Manager for Team Southwest), and Marvin Daugherty (CST Operations Officer).
The team's success is not only a reflection of the hard work of our Sourcers, both past & present, but a great tribute to Cindy's on-going commitment in using the team to set the bar high, create jobs (especially for military veterans & veteran spouses), giving individuals an opportunity to improve their position in life, and making our communities a core part of our business.
Thank you for all the Green work and tremendous effort you have put in these past four years, Sourcers! The company would not be in the same excellent standing without you. Cheers to many more!