S3 Is A World Leader In Staffing Solutions
Strategic Staffing Solutions (S3) is headquartered in Detroit and was founded in 1990 by our President and CEO Cynthia J. Pasky.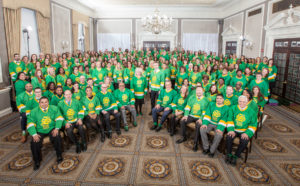 We are financially strong with more than $300 million in sales annually, an additional $85 million in managed services and more than 20 years of consistent growth and profitability.  We have depth and size. We are ranked 17th among the largest staffing firms in the US by Staffing Industry Report and have a database of more than 500,000 resources with industry specific knowledge across all IT disciplines.
We provide the following services to Fortune 500 companies and FTSE100 customers around the world in the agricultural, energy/utility, financial, government, healthcare, insurance and retail distribution industries:
Staff augmentation
Information technology consulting
Customized, flexible solutions
Managed service programs
Enterprise resource planning
Desktop support
Call center technology
Quality assurance
Rapid recruiting
We have  31 branch locations, 24 in the US and seven in Europe, and more than 2,700 team members globally all ready to serve our customers.
For more information on Strategic Staffing Solutions get in touch.