We Offer CCWP Training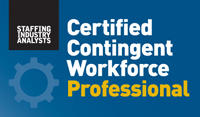 S3 strives to continually add differentiated value to our customers. This past year was no different.
S3 was hand-picked as a Charter Partner to Staffing Industry Analysts in the creation of the Certified Contingent Workforce Professional certification and training program. Why? We are recognized has having the leaders and industry experts in the staffing community.
Four of our people have attained CCWP certification and are now positioned to train and certify our customers as Certified Contingent Workforce Professionals. The end result will be cost saving, risk mitigation and effective management for S3 and our customers.
Informational documents from Staffing Industry Analysts:
What's in the contingent worker bill rate? (pdf)
Global readiness indicators (pdf)
For more information, contact Elyse Sherman or call 313-596-6909.