Team Midwest, consisting of both Chicago and St. Louis, is headed by Denice Olson. Denice supports national sales development and has a proven track record in fostering strong relationships with customers and expanding national accounts across multiple markets. This team is consistently ranked among S3's top branches globally. Strategic Staffing Solutions entered the St. Louis IT and staffing market in 2006 with our acquisition of Kendal.
Here are some key facts about Chicago

The Chicago region's economic base is exceptionally diverse, with no single sector comprising more than 13 percent of total employment.
Approximately two-thirds of its total 2010 output came from its largest and strongest sectors: finance and business services, wholesale and retail, manufacturing, health care, and transportation and logistics.
The Chicago region's workforce is a highly educated and diverse pool of nearly 4 million workers. The proportion of our population with a bachelor's degree or higher outstrips the U.S. average, and the metro area is home to several world-class undergraduate and graduate educational institutions.
The Chicago region has gained considerable momentum in innovation in the last few years. Thanks to a remarkable flurry of entrepreneurship, Illinois now ranks second in the nation for its number of high-tech start-ups. In recent years, annual venture capital investments to Chicago's start-up firms have risen to more than $1 billion for the first time since 2000.
The Chicago region is a global hub for moving people, goods, and information. Its airports service nonstop flights to more than 200 destinations throughout the world. Roughly 25 percent of all domestic rail freight originates in, terminates at or passes through Chicago. The CTA and Metra system provided more than half a billion rides in 2010.
The region also possesses significant digital infrastructure assets, with fiber optic lines laid along rail lines and a strong hub status for computing networks.
The Chicago region has a tradition of highly engaged corporate, labor, civic and community leaders who have partnered with the public sector on transformative projects ranging from the comprehensive Burnham Plan of 1909 to the reversal of the Chicago River at the turn of the 20th century to the creation of Millennium Park in 2004. Effective public-private partnership continues in several large scale initiatives currently under way, including the CREATE program to minimize rail freight congestion, the expansion of O'Hare airport, and ongoing efforts to reinvent cultural and public institutions.
A vibrant city, Chicago boasts more than 40 museums, more than 150 theaters, more than 6,000 restaurants, plus great shopping. Chicago has five times more 4- and 5-star restaurants than most other U.S. cities.
Chicago is home to two of the nation's top business schools, Northwestern University and the University of Chicago.
Source: World Business Chicago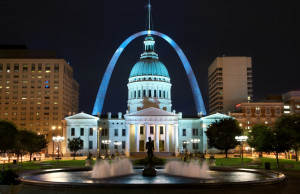 Here are some key facts about St. Louis
About 22 percent of workers in the St. Louis metro area belong to Gen Y, according to a recent ranking by PayScale. The ranking reported the median pay for the Gen Y workforce in St. Louis is about $38,200. However, local jobs in the technology sector faired better with software engineers, developers and programmers earning an average of $83,835, followed by information technology ($76,525) and construction ($62,925).
Many national publications recognize the St. Louis region as a remarkable place to live, work and play. Ranked as one of Forbes' "200 Best Metropolitan Areas" in America in 2007, Greater St. Louis is a community that shines in numerous areas, from business environment and cost of living to health care and quality of transportation.
Forbes magazine ranked St. Louis No. 40 in its ranking of "Best Places for Business and Careers" for lowest cost of doing business among the 200 largest metro areas in April 2010, ahead of such cities as Tampa, Milwaukee, and Denver.
The St. Louis region ranks No. 7 for "Large City Business Friendliness" among cities with populations of 250,000-750,000 based on economic potential, human resources, cost effectiveness, quality of life, infrastructure and business friendliness.
The percentage of St. Louisans age 25 or older with bachelor's degrees or higher — more than 30 percent — exceeds the national average, according to the American Community Survey 2011.  This same survey found that among St. Louis area residents 25 or older, 11.9 percent have graduate or professional degrees, exceeding the U.S. average of 10.6 percent.
MarketWatch named the St. Louis metro area the 25th "Best City for Business" for 2011.
The St. Louis area already offers more than 50 hiking, biking, and walking trails. Now it's developing a unique interconnected system of more than 1,200 square miles of greenways along the Missouri, Mississippi, Meramec, and Cuivre rivers.
Source: St. Louis Regional Chamber